Hello There!
I want to welcome you to the new Wedding series on Enjoying today. I'm currently helping to plan my Mum's wedding for next July so I thought I could do a few posts (one a month) on different aspects of weddings. There will be posts on dresses, decorations, theme ideas, hairstyles, fitness and diet plans and a few diy's for good measure!
This first post is all about bridesmaids, which is what we are currently dealing with. Your bridesmaids will be the main carriers of your colour scheme and style of your wedding so it might be worth sorting it out before anything else. Here are 5 exciting and interesting ways of dressing your bridesmaids:
1) Same dress different shades.
From Grey Likes Weddings
I love the idea of having one dress in different shades because each bridesmaid can have their own unique dress and it adds interest. However, having them in different shades rather than separate colours means that the bridesmaids still tie in with the style the wedding and having the same dress creates some cohesion in the bridal party. On a practical level the different shades allows for different skin tones so none of your bridesmaids are too washed out by the colour.
2) Different shades, different dress
From Ruffled
This takes number 1 a step further. I like it because it gives a more relaxed feel to the wedding while still matching the colour scheme. Also it allows for each bridesmaids to pick the style of dress that they feel most conformable in- happy bridesmaids makes for a happy bride!
3) 2 colours
From Wedding Chicks
A lot of colour schemes have more than 1 main colour so why should you have to pick just one for your bridesmaids dresses? This style is fun and interesting but can be made more formal with matching formal gowns in the two colours if thats what will suit your wedding.
4) Colour pop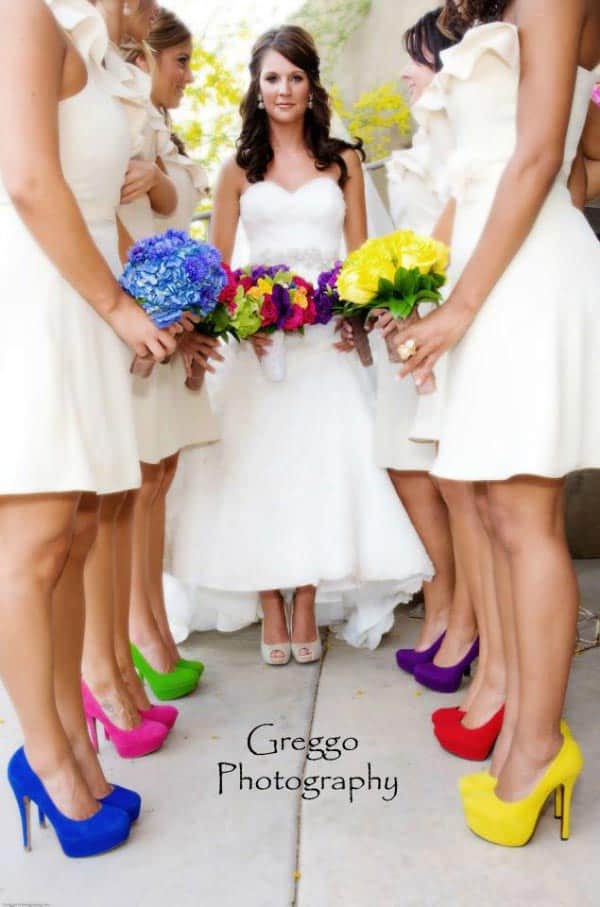 From Destination wedding details
Inject some fun into your bridesmaids outfits with brightly coloured shoes and matching bouquets. You could use many colours or just the one colour that matches your colour scheme.
5)Let your Maid of Honor stand out
From the Knot
She has helped you out, dealt with you bridezilla moments and has run around making sure everything is perfect for your big day. So why not say thank you to your maid of honor with a special dress just for her, it will give her more freedom over what she is wearing but you can still tie it in with your style.
Thats it, all 5 ideas for dressing your bridesmaids. Look out for the next Wedding Series post on the 2nd Friday of November.
Claudia x